10 Best Whitewater Trips in Oregon
Introduction
Oregon is home to some of the most beautiful mountain ranges in the United States. The lush green forests and mountains dotting our landscape inspire adventure and create many Oregonians' deep yearning for exploration. Our rivers provide some of the best hiking, whitewater rafting, kayaking, fishing, and camping spots around. It is hard to narrow it down to the 10 best whitewater trips in Oregon.
Whether you're new to Oregon or call it home, you owe it to yourself to get out and experience some of the best whitewater rafting in Oregon.
If this is your first time trekking through our rivers, or you're simply an expert looking for a new adventure, this guide will help you find the perfect river trip.
Oregon has something for everyone when it comes to white water rafting. Each river brings its unique flora, fauna, and features for you to experience. This guide is filled with information gathered from years of Oregon whitewater rafting trips.
We've taken into account all the factors that make or break a trip. Including flow rate, remoteness, ease of access, wildlife viewing opportunities, and much more. However, considering that there are hundreds of rivers in Oregon to run, it is hard to narrow it down. We did our best, but I am sure you might find one that you enjoy that didn't make the 10 best whitewater trips in Oregon list!
Oregon is home to some of the best rivers for whitewater rafting, but we are proud to introduce you to 10 that we truly believe you should experience during your next trip!
John Day River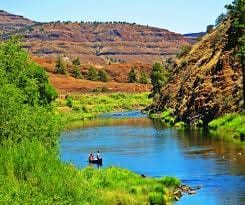 The John Day River is located in Oregon and offers over 80 miles of nature-filled whitewater. It's divided into three sections; Upper, Middle, and Lower. Depending on how much time you have, you can kayak the sections individually or combine them into one trip of around 150 miles if you're planning an extended stay along this great river. The upper section begins at the dam for Canyon City and follows down to Clarno Bridge. This section provides plenty of Class III+ rapids with some Class IV sprinkled in there. If you want more excitement, I recommend getting a permit to camp near Twickenham Ferry, where it turns into the Middle Section.
This is where things really start to heat up on the John Day River with more rapids, islands, and remote camping. There are great camp spots along the river in this section, with some hidden gems that are exciting when floating by in your kayak. Most of the rapids in this section are rated between III-IV. If you're an experienced boater, it won't hurt to take a look at the river gauge before heading out to make sure it's not too low or too high for your skill level. The last section of the John Day River is the Lower Section and offers more Class III rapids until the end when things flatten back out slightly. This section ends just miles away from where you started at Canyon City, so you can make this whole trip again if your group is up for it.
Rogue River
The Rogue River is located in Oregon. It offers over 40 miles of nature-filled whitewater ranging from Class II to IV. The section that most people kayak begins at Grave Creek. The scenery slowly turns into a lush forest instead of farmland like many other rivers in Oregon. The rapids will gradually get more extensive and more exciting as you go along. You'll also encounter some challenging ledges and smaller waterfalls during the first several miles.
There are great camp spots by all of the major rapids on this river. So, if you want to break up your trip, it's really easy to do so. During the summer there can be tough restrictions on when you're allowed to camp at these sites. Keep that in mind before setting out. The river eventually turns into a Class III and IV as you continue with some waterfalls that drop nearly 100 feet along the way. This section ends just before the famous Whitewater Park.
Preferred Whitewater Rafting Guide: Northwest Rafting Co.
Umpqua River
The Umpqua River is located in Oregon and offers over 100 miles of nature-filled whitewater. The section that most people kayak begins at Steamboat Creek and follows down to the take-out spot at Roseburg. Along this stretch, you'll find mostly Class I and II rapids with some incredibly large old-growth trees on either side of the river.
This part of the Umpqua River is perfect for beginner paddlers looking for a relaxing trip through beautiful scenery. There are also ample opportunities to see wildlife along this stretch since it's much less trafficked than other rivers in Oregon. There are excellent camp spots everywhere along the river, making this trip even more enjoyable since you don't have to worry about packing everything in. This section on the Umpqua River ends just before it begins to turn into a Class II and III river which is highly sought after by kayakers who enjoy more excitement than you find here.
Santiam River
The Santiam River is located in Oregon and offers over 70 miles of nature-filled whitewater. The section that most people kayak begins at Foster Bar, where you'll find Class II rapids with some scattered class III's sprinkled in here or there. This stretch of rapids continues till just before the South Fork River, which provides more Class III+ rapids to add to the excitement factor.
There are sand bars here and there if you want to take a break from kayaking, which can be nice when you're moving for 9+ hours each day.
Preferred Whitewater Rafting Guide: Oregon River Experiences
Chetco River
The Chetco River is located in Oregon and offers over 40 miles of nature-filled whitewater. The section that most people kayak begins just past the Bullards Bar Reservoir, with some Class III rapids running throughout it. You'll also encounter several class IV rapids here, along with a handful of smaller waterfalls mixed in on occasion too.
There are plenty of places to camp on the Chetco River. There are numerous sand bars where you can take breaks from kayaking, and there are tons of spots along the way to hang out when you want to get off the river. This section ends before the river begins to turn into Class III and IV rapids. There are some incredibly large waterfalls that would be un-runnable by kayakers. So you won't have to worry about finding more accessible areas to take out at.
South Fork Coquille River
The South Fork Coquille River is located near the Pacific coast, south of Bandon, near Bullards Beach State Park. It's rated at class II-III with an average flow rate of 438 cubic feet per second, but it does have its moments when it hits class IV rapids during the peak season. The river is a whopping 21 miles long. It features 3,000 feet of undulating and winding whitewater action that will keep you on your toes the entire time. This is not a trip for beginners, but for those rafting before and looking for an expert-level ride through Southern Oregon's wildlands.
North Umpqua River
The North Umpqua River is a cold, clear river located in southwest Oregon. A pristine gem with a wide variety of features from riffles and small drops to big wave trains and demanding Class III/IV runs. The North Umpqua contains over 60 rapids on the 41 miles run from Steamboat to the town of Roseburg. Notable whitewater sections include:
Boulder Creek Rapids
Mosquito Creek Rapids
Puppy Creek Rapid
Lost Creek Rapid
Dudlyville rapid
The North Umpqua is a great river to run year-round. It has a strong spring runoff with high flows in May and June. Warm wet summers are characterized by low to medium flows. Fall months are also low flow but very colorful, and winter when the river slows down again for easy boating. There are several outfitters that offer raft rentals or shuttles for this section of the river.
Boaters should note that many portages are required throughout this section due to undercuts, logjams, beaver dams, and obstructions.
Deschutes River
The Deschutes River is one of the best river trips in Oregon, especially for intermediate paddlers. It is located northeast of Portland and offers everything from big wave trains to long pools perfect for relaxing. The main section begins at Lava Island Falls right outside Bend, OR, and ends at the Pelton dam below. There are dozens of rapids on this trip, including:
Pipeline
Bingo
Shanghai Beach
and many others that fit into the easy-intermediate category.
The longest continuous stretch on the Deschutes is about 30 miles total. Several of the sections demand up to class III/IV skills. Along the way, there are some spectacular rock formations such as Big Ben, the Cheese Factory, and Airport Rock. Several outfitters can provide shuttles or raft rentals for this section of the river.
We have a comprehensive review and river map for the lower section of this river here.
Preferred Whitewater Rafting Guide: River Drifters
Snake River: Hells Canyon
The Snake River is a classic example of the ruggedness and beauty of the United States. Traveling through Hells Canyon in Northern Idaho, this hidden gem runs between two parts of the largest roadless area in the contiguous US. This makes it one of the most remote whitewater trips in Oregon. The main section begins at Pittsburg Landing on U.S-95 near Halfway, OR. Class III rapids start right off the bat with several more before Little Rattlesnake rapid, which is considered to be an easy class IV run by many guidebooks. This leaves 6 miles of Class II water until you reach Riggins Cabins. Shuttle services are available if not dropping in from Brownlee or Oxbow dams further downstream.
The river turns into a steep and continuous class III/IV run from Riggins. The list of rapids: Hells Gate, Tunnel Chute, Big Salmon rapid, Orphan Rock rapid, Staircase Rapids, and The Box. Then there are several miles of flatwater before reaching the bottom at Pittsburg Landing, which can be accessed via Brownlee or Oxbow dams downstream. The Brownlee drop provides the only class V on this section called Granite Creek that is fun for expert paddlers but no one else so beware!
This river is best during spring runoff in May because it has high flow rates due to snowmelt. It is also an excellent option when flows are very low during the summer months.
Mckenzie River
The McKenzie River is a classic Oregon river trip best known for its incredibly clear water and gorgeous blue-green color. It has been rated as one of the top ten trout fishing rivers in the US due to the large population of wild fish living in it. In fact, you can drink right from the river without any treatment! There are several sections on this river, including Cougar Reservoir, Sahalie Falls, and The Seven Castles, that mostly offer Class II rapids, although there is a short section after Sahalie Falls with some Class III.
   The main attraction on this river is the upper section that starts near Clear Lake. This section starts with an easy Class II run with a significant Class III called Fishladder Rapid. Then there is a long stretch of Class I-II before reaching the take-out.
McKenzie River whitewater rafting trips are best during spring runoff in May because it has high flow rates due to snowmelt feeding the tributaries. It is also an excellent option when flows are very low during the summer months.
Preferred Whitewater Rafting Guide: Helfrich Outfitters
Conclusion
Oregon is a beautiful place to go whitewater rafting, and many spectacular rivers in the state offer a great time for all skill levels. The 10 rivers highlighted above are some of the best but don't hesitate to check out other rivers in Oregon too.
In addition, these trips can be made year-round, although they may not be as pleasant during certain times of the year, depending on when you want to go. If it snows, you might have to wait until summertime! In any case, enjoy your trip, and please comment below with any questions or concerns about Oregon Whitewater Rafting Trips.