Check out our Mckenzie River Rafting Report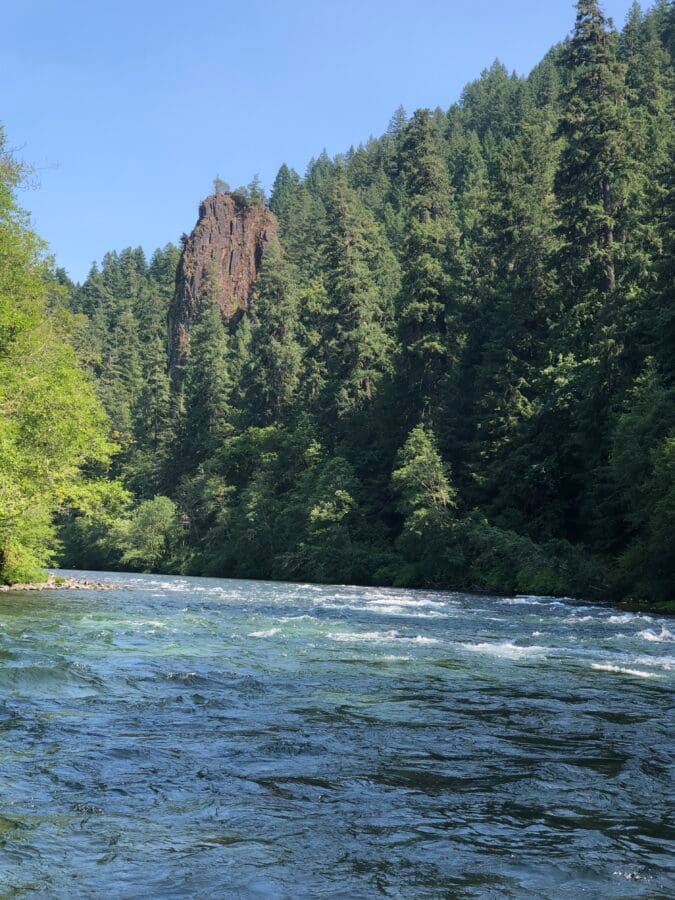 I​ would consider the Mckenzie River my home waters. Old-growth firs with deciduous trees sprinkled in to add color throughout the year. This pristine Oregon river is the perfect shade of blue reflected in its headwaters that originate from Clear Lake. This 90-mile-long river offers many other activities in addition to whitewater rafting. It has great fishing, hiking trails, plenty of whitewater rafting, and is close to Eugene and Central Oregon.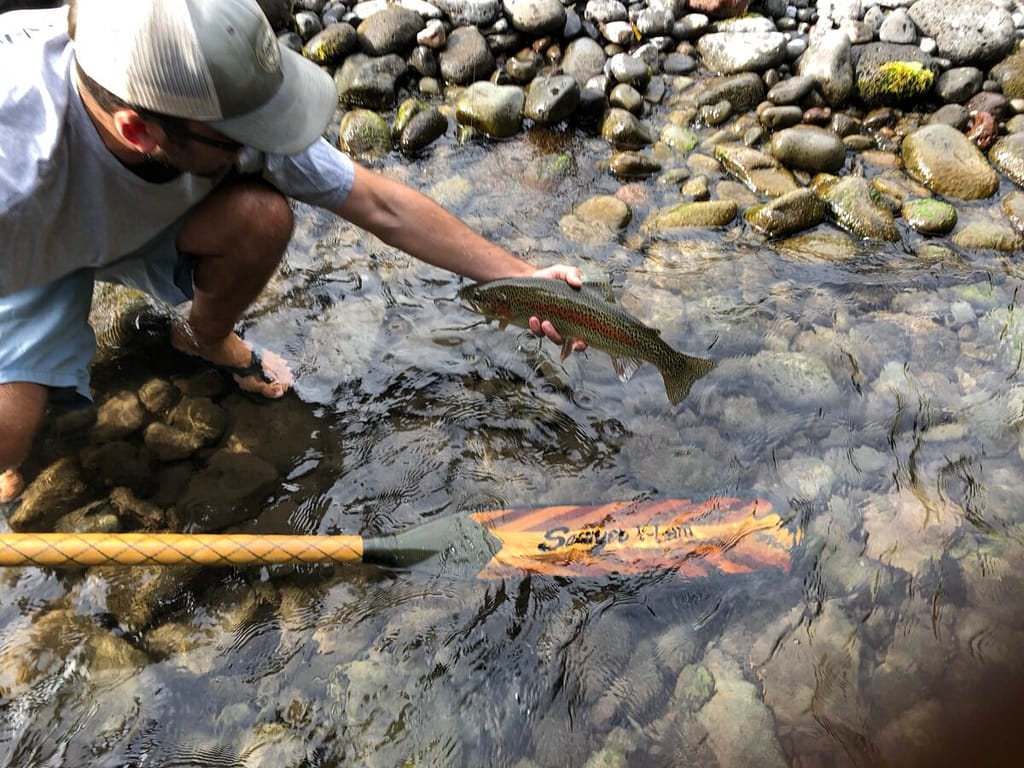 In 2020, a fire burned alongside the banks and it's sad to see so many of the homes gone. Yet, the vegetation is starting to grow back, homes are being rebuilt, and has not lost its beauty. Some of the landmarks are gone, but I am confident they will be rebuilt. The folks that live up the canyon are tough-minded and pioneering individuals.
Let's dive into all that you need to know about Mckenzie River Rafting trip!
Floating the Upper McKenzie river
Although the most common run for most whitewater enthusiasts is the Finn Rock to Helfrich run, I love rafting the upper section. It was the first sunny day we have had in quite some time, so I had to get out and float the upper section of the McKenzie River. This roughly 18-mile section starts at Olallie Campground and ends at the Blue River boat ramp. At 3500 CFS water levels, it makes for a perfect half-day trip. However, today it was at 6500 CFS, and completed the run in just over 2 hours.
The most scenic section of the river
The Upper Mckenzie is what I think about when I think of the Mckenzie River. The lush forests that cover the Willamette National Forest blanket the shoreline. Its crystal clear water and peek-a-boo views of the snow-capped mountains make this section a special place of beauty.
The Mckenzie River Trail starts near the Mckenzie Bridge and follows along the river for over 20 miles, but because of how dense the forest is, you rarely see hikers passing through.
Rafting the river
Rafting the upper section of the Mckenzie can be technical and you should be comfortable rafting Class III rapids before planning a trip. There are a few distinct rapids such as Fishladder Rapid, but most of this section is filled with whitewater. There are many fun rapids at high water levels for you to enjoy.
I would also recommend you bring splash jackets or even a dry suit if you are rafting in the Spring or early Summer. It can be breezy and the Mckenzie is a cold river.
We put in at Frissel Bridge boat ramp which is just below Olallie Campground on the Mckenzie Highway and decided to take out at Bruckhart Boat Ramp–just below Takodas restaurant. We hit the first long wave train immediately and enjoyed not having to navigate around rocks–due to the higher water levels. It didn't slow down again until we came to Paradise campground.
The river starts to widen out a bit once you pass Paradise Campground, but the steep gradient keeps the river moving fast.
We floated past Belknap Hotsprings–which I strongly recommend you go and spend some time soaking in their hot spring-fed pool–and hit the next big rapid just below Belknap.
River rafting logistics
Thankfully you do not need any special use permits to float the Mckenzie River. I typically use a shuttle service to shuttle my truck to the take-out. I recommend Mckenzie River Shuttle. They do a great job and only charge $25.00. They have a Facebook Page, but the easiest way to schedule them is to call: 541-912-0044.
If you are looking for a Mckenzie river rafting guide for this section I would recommend High Country Expeditions. I see them a lot on the river and they do a great job caring for their customers. Their river guides are professional, and since I talk with them often, I know they are knowledgeable and are a great choice to use on your next fun river trip!