The Rocky Mountain Rafts are well-designed, durable, and easy to afford. Last summer at the height of the pandemic (with a little luck and a lot of saving up) we were able to get our hands on a 12' self-bailing Rocky Mountain Raft. We chose one of their newest colors – Sandstone. They're perfect for sporty rivers in the Pacific Northwest all the way to family fun at New River Gorge. After a year of use on a handful of rivers around Colorado, I am glad to share my thoughts on one of the fastest-growing brands in the rafting world.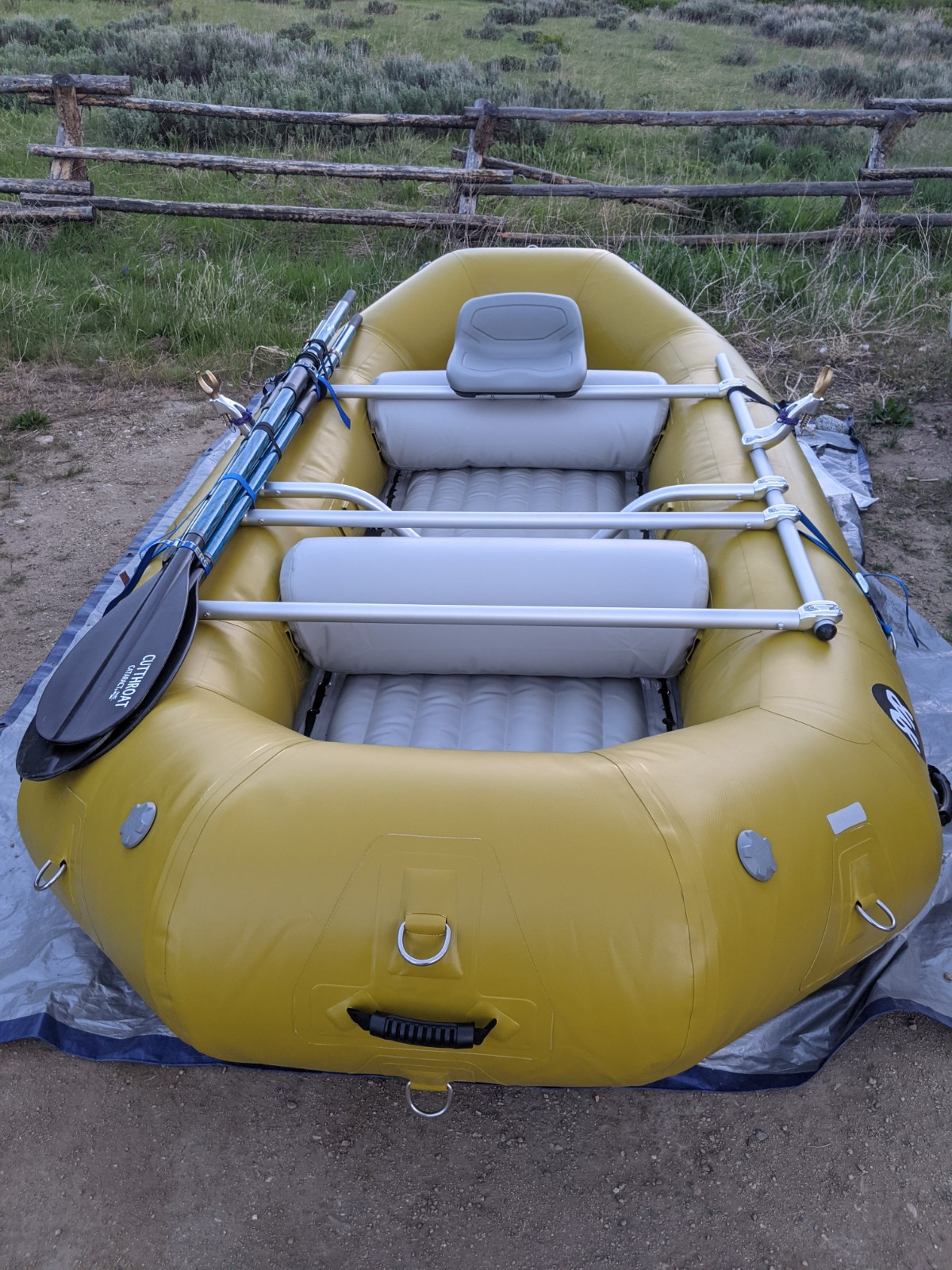 Construction and Materials
PVC Boats
To offer a more affordable and high-quality boat, Rocky Mountain Rafts chose to go with a 3000-denier "Rockshield" PVC fabric and triple welded seams throughout – no glued seams!. These boats are no joke and their construction can stand up to some serious use over time. The underside of the floor is covered in an extra layer of fabric for added durability. A friend and I took a 14' RMR raft on a 25-mile overnighter that had previously flown off his trailer at 65 MPH and had to be winched out of a ditch.
Welded Seams
Rocky Mountain Rafts and most other companies now use welded seams instead of glue. This creates a much stronger bond, without the chemicals in the glue that often are damaged by the elements. While they are not as durable or long-lasting as Hypalon rafts (NRS, Hyside, Avon), with proper care and maintenance, this is a boat that will be reliable for decades. Rocky mountain rafts recommend using 303 treatment once every season or two. It will help to maintain the fabric and its UV resistance, which is industry standard.
Specs and Features
The 12′ raft weighs about 120lbs (without an oar frame or accessories). You'll instantly notice how easy it is for two people to carry. It's compact enough to fit on the top or in the trunk of the average SUV.
It comes standard with four Leafield D7 valves, three quick-change thwarts, and 12 D-rings for lashing gear, frames, and other accessories.
RMR offers these rafts in I-beam or drop-stitch floor constructions. Drop-stitch is more popular for anglers because of its stability and rigidity for standing and casting. However, we opted for the I-beam to save weight and a little more of our budget for accessories. Fully inflated it's easy to walk around on and comfortable
Handling and Maneuvering
Rowing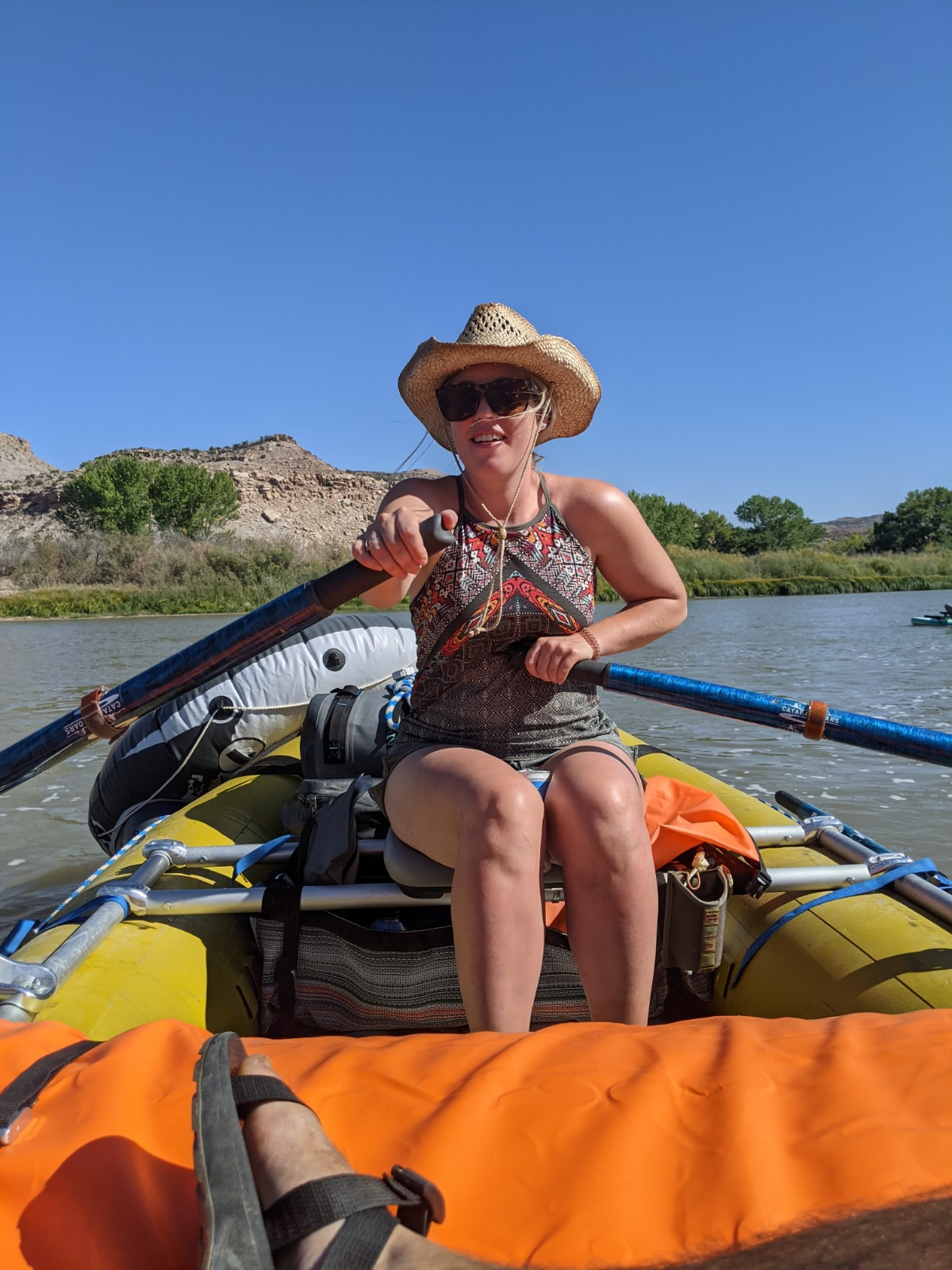 Also read : Five of the best PFDs for Women Kayakers in 2023
With an oar frame and overnight gear, the boat is very easy to maneuver on the river to fishing spots and/or quickly avoid obstacles. The I-beam floor tracks a little different than its drop-stitch counterpart (slightly straighter). This also allows the raft to stay in the current a little better during those dreaded flat water sections.
Paddling
With enough room to fit two-to-six paddlers, the 18.5" tubes have great buoyancy and handle big drops with ease. The smaller size inflatables add fun and sporty feel to smaller waves. With a good crew, you can punch through some bigger waves with ease.
It also makes it more nimble and agile than bigger boats, perfect for navigating the narrow Poudre Canyon and other tight rivers without getting pinned or flipped. A 12′ raft is a fun raft to guide with!
All in all, this is a very versatile and comfortable raft great for fishing, family trips, or R2ing some Class III with your best paddling buddy.
Recommended accessories for rafts
Frames & Oar Setup
The first accessory we purchased was a 54" wide NRS Bighorn I frame. This made it comfortable to fish and carry gear for overnight trips. If buying an oar frame, don't forget to stock up on an assortment of cam straps for lashing the frame to the raft, and gear to the frame.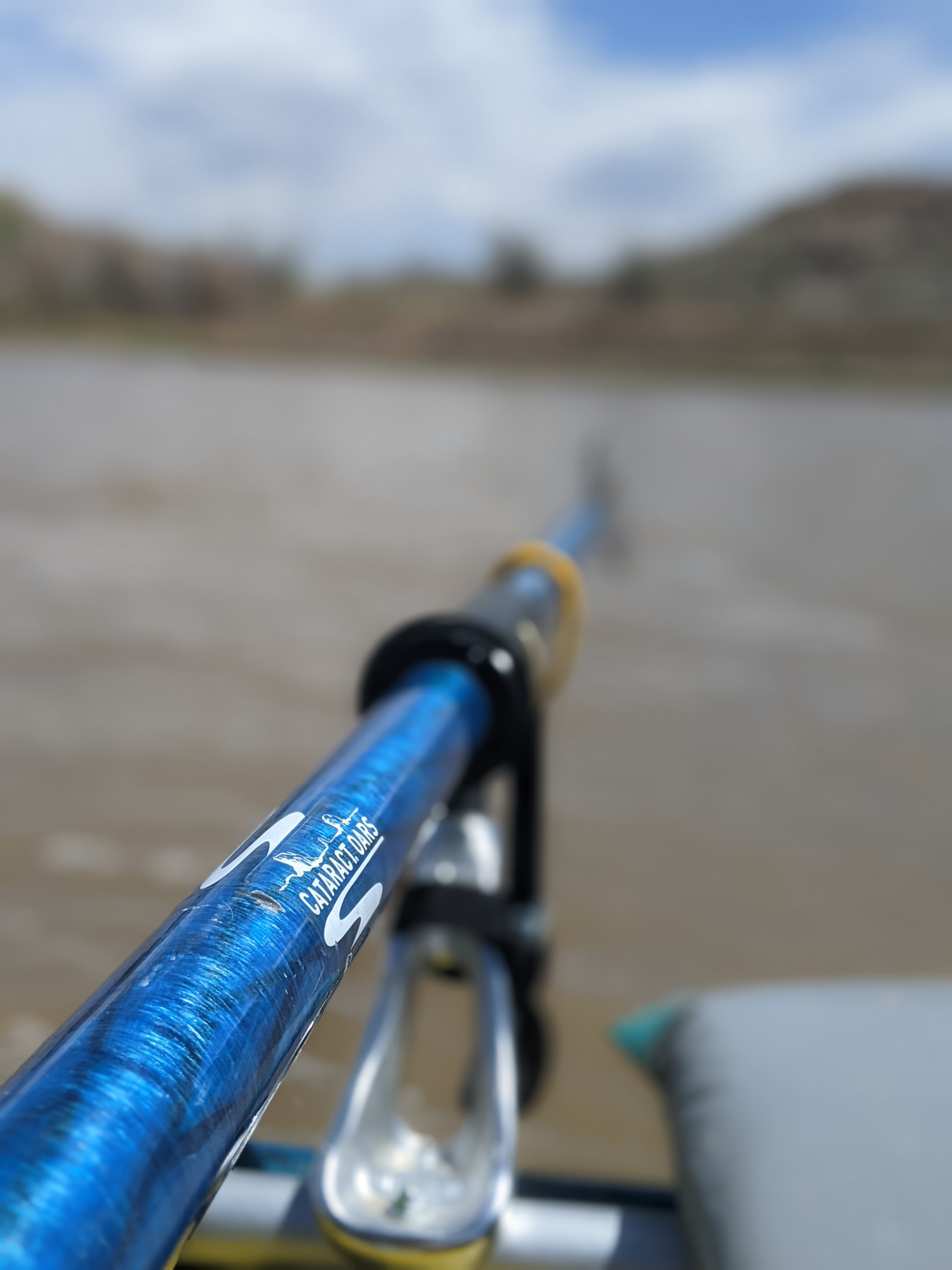 We went with the Cataract SGG Oars with Cutthroat Blades for our rowing setup. Cataract Oars are known for their high-quality composite material which boasts a high strength-to-weight ratio. The "shoal-cut", floating blades are ideal for shallow water and fishing purposes, but also have enough power to push a lot of water and really get you going.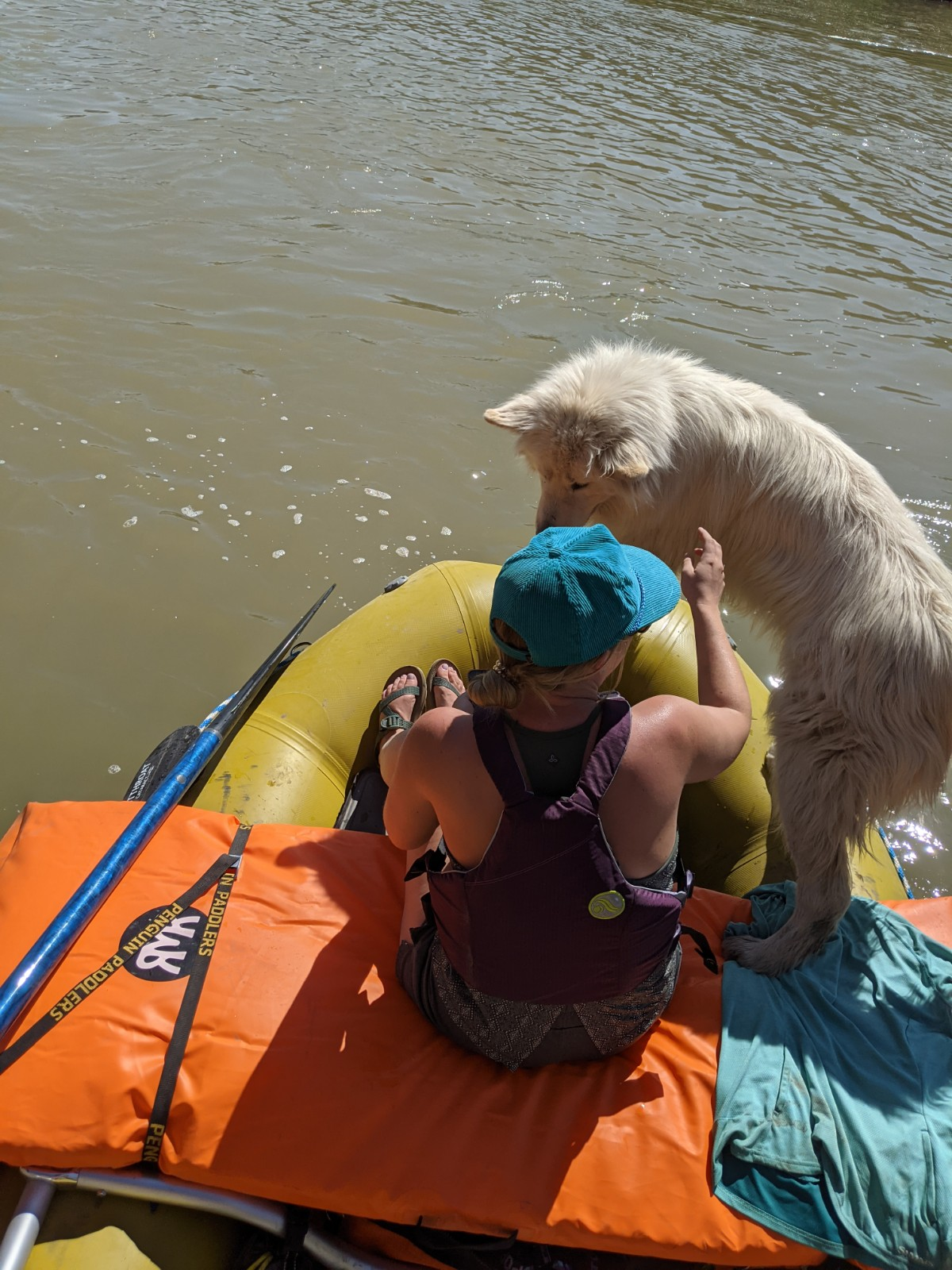 Next, we got a Crash Pad, the Rocky Mountain Rafts version of the classic Paco Pad. The Crash Pad makes a wonderful pad for our homemade bench seat up front and dog bed at camp. Made with the same durable PVC material, these versatile pads are a must-have for overnight river trips.
Gear for Paddling
If you prefer paddling, I would recommend some NRS paddles and a Thwart Bag. These nifty little bags attach easily to a thwart and can hold a few dry bags and water bottles, while also adding a few grab handles for when things get rowdy or you need a handle to pull yourself back into the boat.
Gear Hauling
A 12' boat might not be the best option for trips longer than three days, but it has more than enough storage for an overnight or two with a little bit of clever packing. For day trips with the frame, it carries a 40qt cooler, three people, and a 50lb dog with no problem and makes for a comfortable and easy-to-row ride.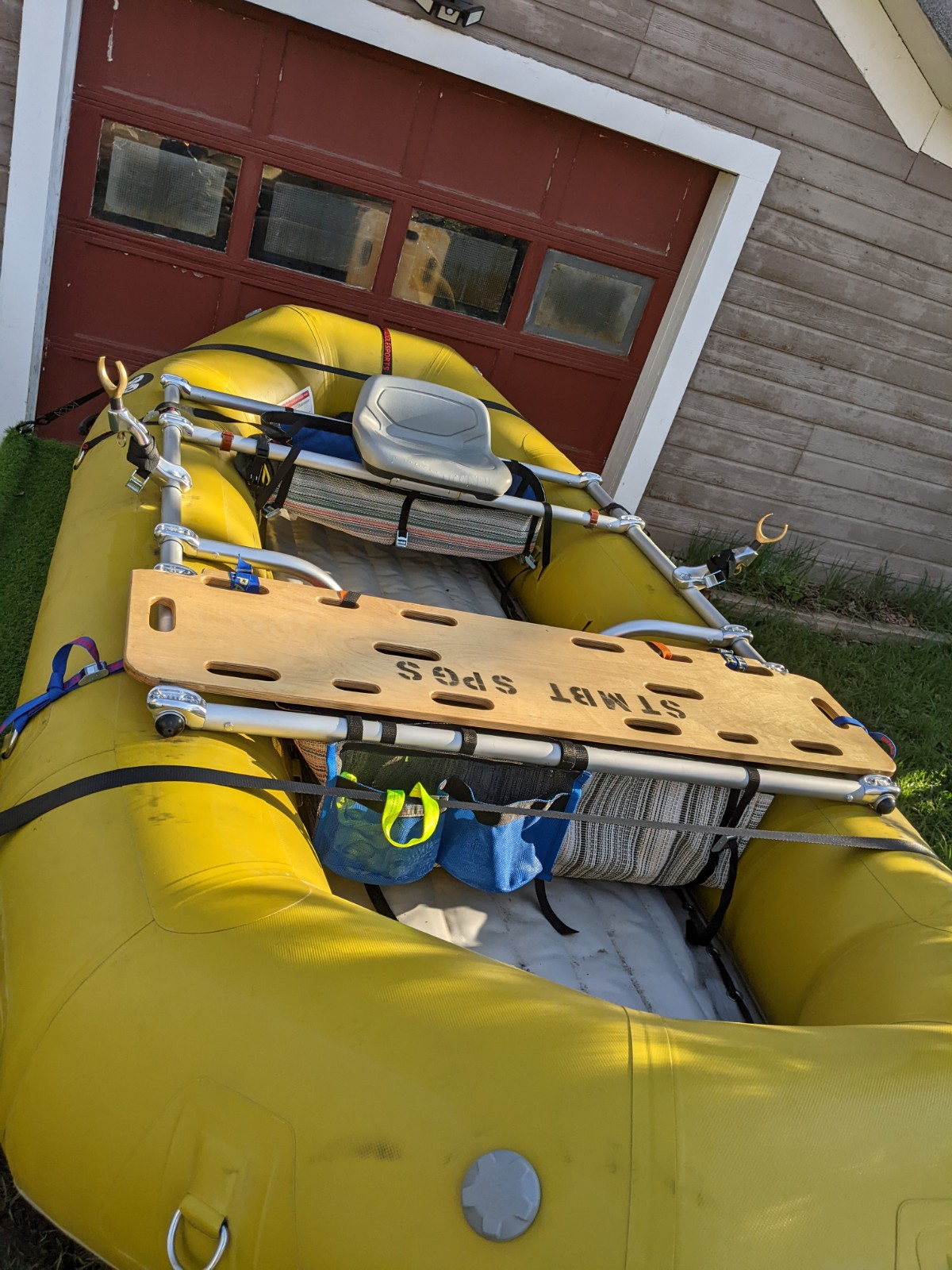 The 12 D-rings give you tons of places to attach dry bags, water bottles, and lash down a cooler or any other gear you want to be secured on your float. We've taken this raft on several overnighters and have never been "maxed out" with gear. We also haven't had issues with sitting too low in the water.
If you are carrying more gear like dry box you'll want to make sure the raft is fully inflated for max buoyancy. More than enough for backpacker-style trips, but perhaps not the weeklong everything-but-the-kitchen-sink trips.
Fishing with Rocky Mountain rafts
With world-class fisheries all around us, it was a no-brainer we would take this baby out for a spin. Being smaller and lighter than most fishing rigs out there, we went to the Blue River (and its infamous boat ramp) to test it out. Although the I-beam floor isn't ideal for standing and casting, it gets the job done. The ample D-rings allow accessories like rod holders to be strapped near the spare oar for easy access.
Rocky Mountain Raft 12′ Comparison
Some similar rafts available in this price range include the Star Outlaw 120 and the Aire Tributary 12. While these are mainly entry-level PVC boats, they differ in their designs in a few small ways.
First off, Rocky Mountain Rafts have a little more kick to the stern and bow than some older PVC boats, giving you a little more confidence in taking drops and a lot more fun running even the smallest waves. The Rocky Mountain Raft and Star also come stock with twelve D-rings, while the Aire has ten D-rings. Most newer models come standard with four handles also.
One big difference right out of the box is that Rocky Mountain includes three thwarts standard with this raft, rather than two from Star and Aire, but both the latter options come standard with drop-stitch floors while the Rocky Mountain drop-stitch will cost a little more than the I-beam floor. Fortunately, all companies use welded seams instead of glue to increase longevity.
How does Rocky Mountain compare in price?
Rocky Mountain rafts offer a variety of raft sizes as well as inflatable kayaks. However, we will compare their 14-footer against both NRS and Hyside. Both of those manufactures use material that is more durable but are still priced close to an entry-level. Take a look at this article if you are wanting to learn more about the materials used to make rafts.
Rocky mountain rafts: Length: 14′ Price: $3,649
NRS Otter rafts: Length 14′ Price: $4,995
Hyside Outfitter 14.0: Length 14′ Price: $5,165
Conclusion
All in all, I am very impressed with Rocky Mountain Rafts attention to detail in the design and features of their rafts, especially for beginners looking to get into the river life. The smaller sizes also are perfect for an experienced rafter wanting a versatile raft for a smaller river.  
Also read : Star Raven Inflatable Kayak Review (2023)
Made with durable materials, proven welding technologies, and a variety of eye-catching colors, you can stand out amongst the crowds at the put-in with these inflatables. Not to mention the price keeps more money in your pocket for all the accessories you'll want to make your time on the water more comfortable and fun, and thus more enjoyable.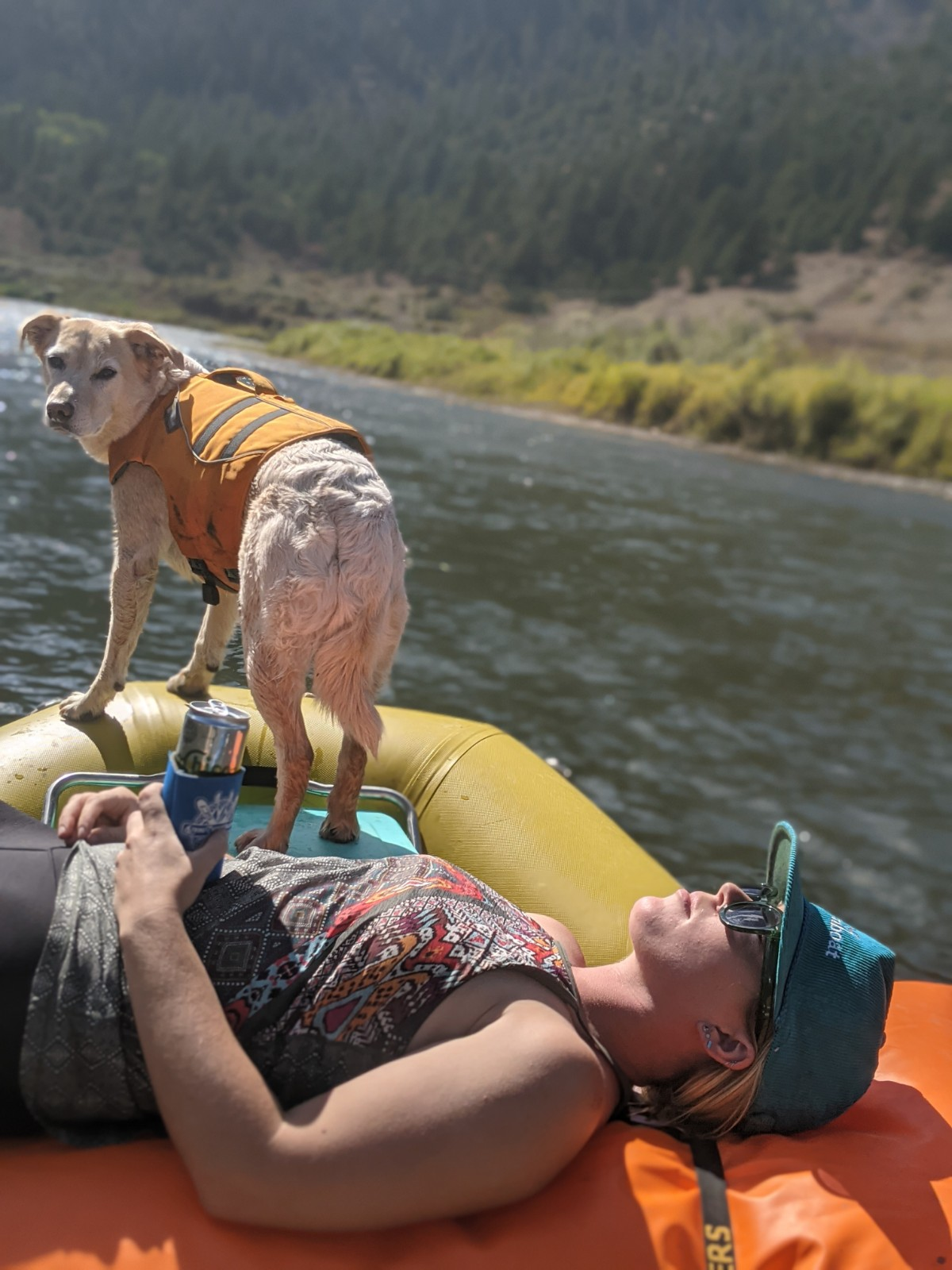 Also read : WHITEWATER KAYAK: A fresh take