Packing for an overnight rafting trip on the Colorado River made easy.
To kick off this river season, we are making our pilgrimage from the mountains to the canyonlands of Western Colorado. Trading the slopes for warm summer nights on the Ruby-Horsethief section of the Colorado River. This secluded 25-mile section has breathtaking scenery that takes you back in time. For non-motorized craft, you will definitely want to camp along this section. It is a must-float for any geology buff looking to explore the solitude of our wild western rivers.
The Ruby-Horsethief section provides awesome overnight rafting and camping trips with family, friends, and four-legged friends. While you don't technically need a river permit, an overnight camping permit is required to camp within the 25-mile stretch. It's easily attainable by making reservations at recreation.gov.You can make them up to two months in advance, but the coveted Black Rocks campsites are the first to go!
What to expect while exploring the Ruby Horsethief canyon section
Meandering along the state's southwest border, this popular section of the Colorado River is a beginner-friendly float outside of spring runoff season. The ease of this river gives you plenty of opportunities to stare in awe at the landscapes carved into the walls by centuries of erosion, rivaling the scenes you might find while floating in the Grand Canyon. Some boaters opt for motors on this section to avoid the potentially brutal Colorado River winds.
Put In(s)
The most popular put-in is at the Loma Boat Ramp and Ranger Station. It can be very busy on the weekend. Although there is plenty of room there, I like to use a slightly lesser-known ramp just upstream. Since we usually drive down the night before, it's nice to camp at the James M. Robb State Park in Fruita and wake up right next to the boat ramp (camping fees apply). Looking for a Ruby Horsethief shuttle service? Rimrock Adventures is a premier guide service that offers shuttles at a reasonable rate for private boaters.
The Float
As you move further from the boat ramp, the ease of the river sets in and it's easy to be distracted by the beauty of the canyon walls. Bald eagles sit atop the red rock cliffs of Rattlesnake Canyon. Which is the first of the many campsites along the river. Plenty of side hikes are littered on either side of the river. The early spring weather makes it a prime time to enjoy them.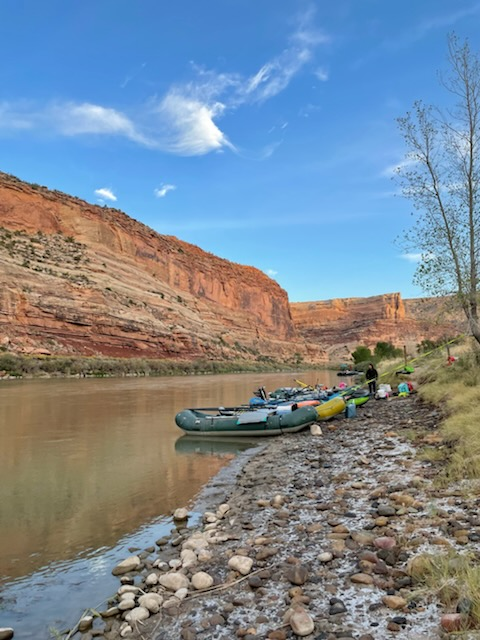 Floating past the aptly named Cottonwood campsites, you will continue to see many more with and without shade near Salt Creek and Mee Corner. The Mee campsites are usually available for big groups but offer little or no shade. The Black Rocks sites are just past Dog Island on the left, and will not disappoint. Besides one rapid section in the middle of Black Rocks, the river is mostly flat water and forgiving at normal flows. This makes it a great stretch to get beginners some experience in the rowing seat.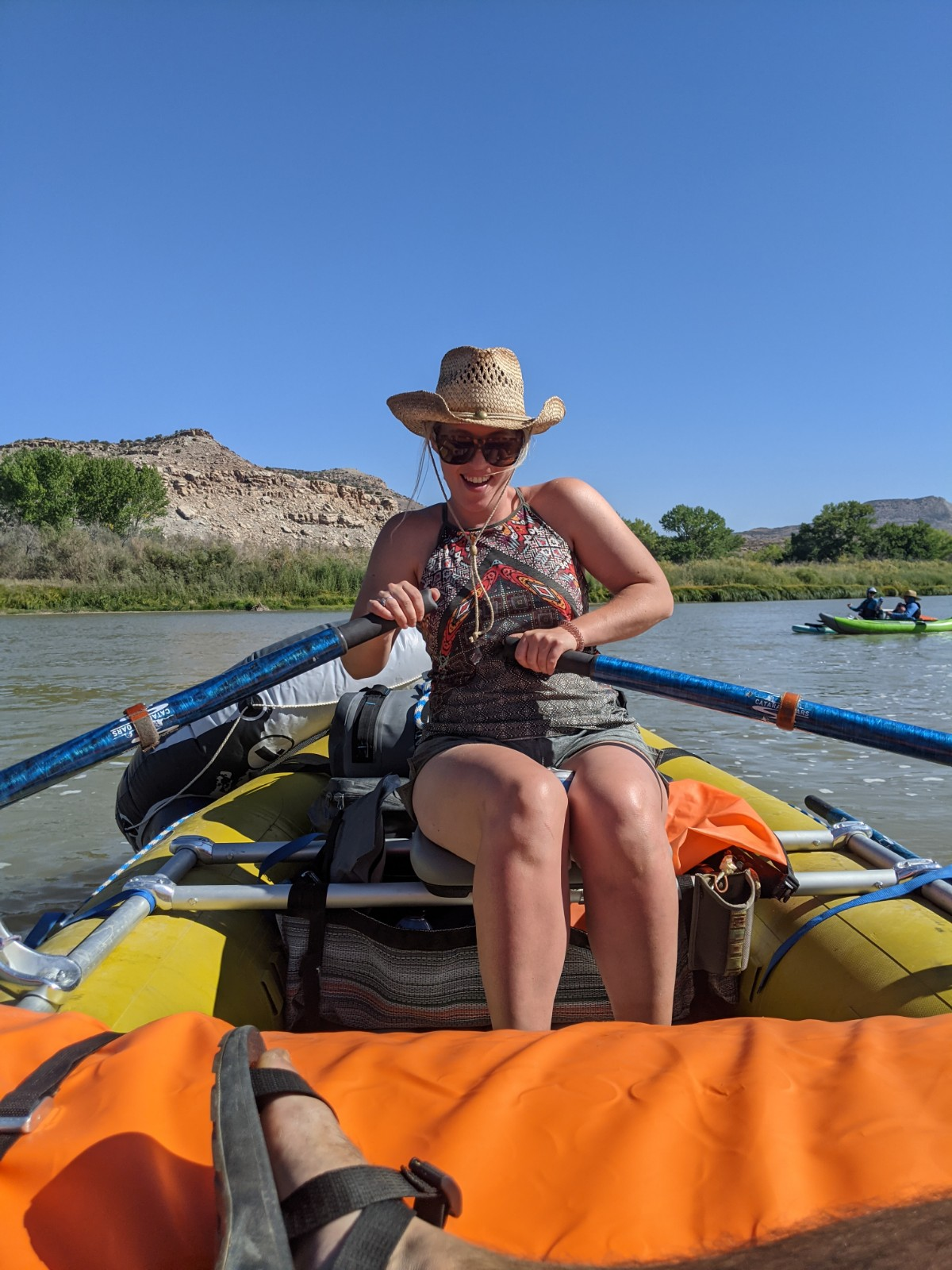 Knowles canyon signifies the final stretch of the float has begun. The great blue herons fly overhead; you'll wish the trip would never end. Luckily for everyone, it doesn't have to come to an end just yet. Right past Island camp on river-right lies a well-hidden trailhead across the train bridge. This short walk will lead you to an alcove filled with rock art created by the Fremont Indians more than 1,000 years ago. Please abide by the leave-no-trace principles if visiting the pictographs. The concrete monument soon after signifies the point where the Rio Grande Railroad crosses into Utah. You have roughly four more miles until reaching the Westwater Boat Ramp and take-out point.
What to pack for a multi-day trip
Packing for an overnight trip can be a little tricky, especially in the early and late seasons. Temperature can vary greatly, and fluctuating spring flows definitely affect what you bring with you. And what you bring will ultimately decide how comfortable you will be on your river camping trip. Besides the basics, water, sunscreen, PFD and the like, here's what we will be relying on to enjoy the desert sun of Ruby Horsethief.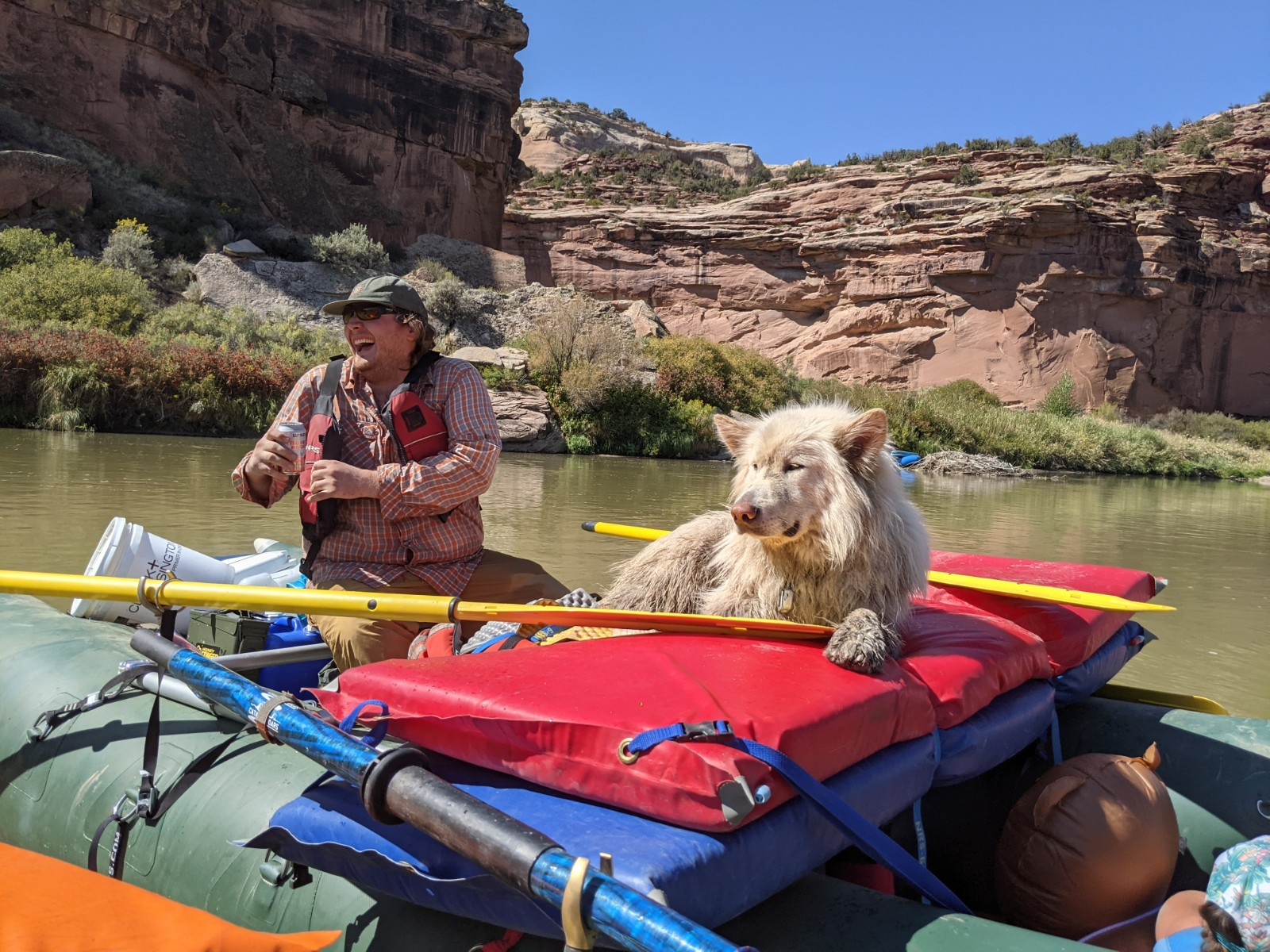 Keeping it minimal
We've decided to keep our gear minimal for two people and one dog. Yet, we still bring some of our favorite car-camping comforts. Since we are taking our smaller 12' raft, space and weight was a big factor in what we can bring along. A mix of backpacking gear and a few luxuries will ensure we are comfortable and our raft is not weighed down.
Since the river conditions, this time of year will be pretty mellow, the raft configuration will be for maximum comfort and gear-carrying capability. This means all the drop bags, captain's bag, and cargo platforms will be rigged up and fully loaded with all of our overnight gear.
How we're packing it
Carrying enough gear for three on a small raft is not easy, requiring some on-the-go ingenuity. I use locally made Good Vibes bags made from high-durability mesh and fit to my frame to make the most use of my limited space. To save weight I forego a dry box and instead use dry bags to carry our gear and keep it organized.
First is a drop bag underneath the front seat to hold snacks, layers, and kitchen gear; mostly the stuff we want easy access to. I also use a very nifty zippered captain's bag. It holds the pump, extra straps, repair kit, first aid, and the really important stuff in Yeti Sidekicks – keys, phones, medicine, etc. Last but not least there is a small cargo platform in the rear bay. The cargo platform is great for keeping heavier items directly off the floor. Camping gear, clothes, water jugs, etc. Throw a Paco Pad on top and boom – my cooler seat now has an equally as comfortable backrest. Sometimes el Capitan needs an afternoon siesta, ya know?
Camping Gear
On an overnight river trip, arguably the most important gear besides your raft is your camping gear. Our go-to river tent is our Salt Creek SL3 made by Big Agnes, also a local Colorado company. Not only is it a compact and lightweight option, it's got features galore that are almost designed with river trips in mind. It has three doors, an awning, ample storage space, and the ability to withstand steady rain and wind if Mother Nature has her own plans.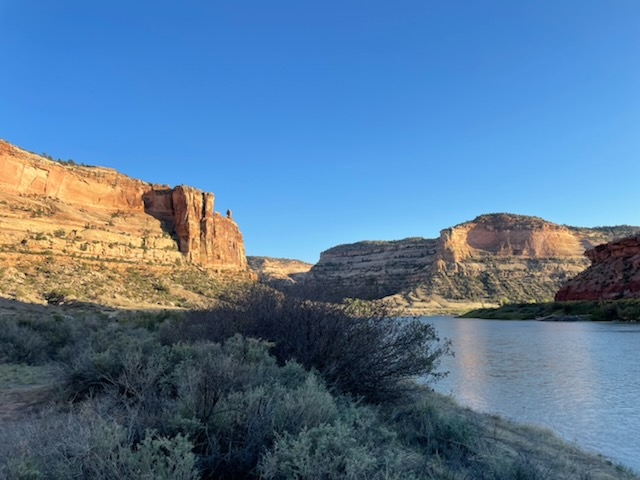 Sleeping gear
For our "sleep system," we like to bring a two-person sleeping bag and pad that has just enough room for the dog to squeeze in on cool nights, called the Big Agnes King Solomon 15-degree. The fitted sheet style sleeve makes it extremely easy to connect your bag and pad for sleeping comfortably under the stars and on top of your sleeping pad – all night long.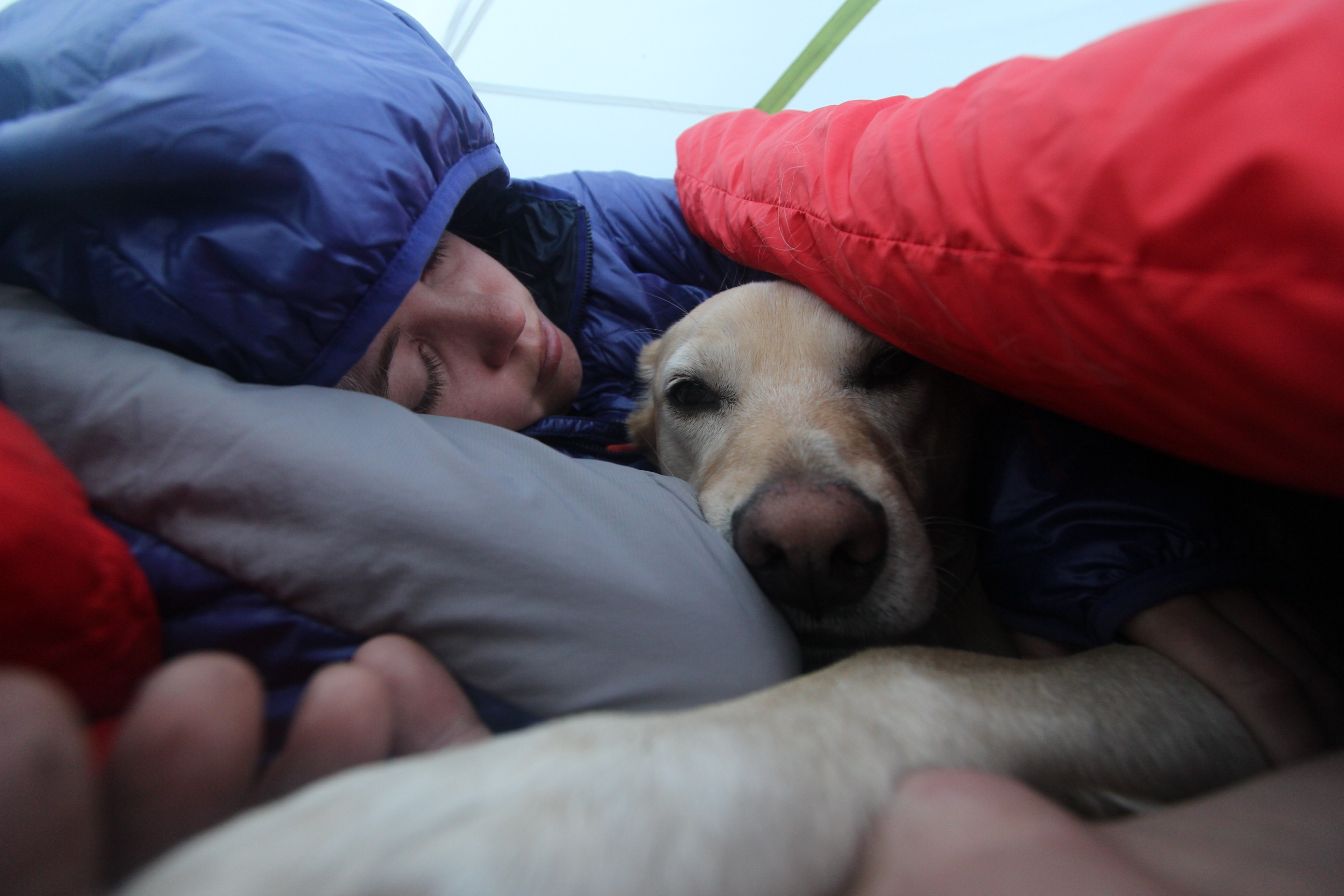 Comfortable furniture is a must-have as well. After sitting on the raft all day the last thing you want to sit on is the hard ground. Thank yourself later and bring your favorite chair. For me, it's the Helinox Beach Chair. Light, packable, and oh-so-comfortable. It also sits low to the ground, so uneven surfaces are not a problem.
Sleeping pad
Last but not least, no river trip is complete without our Paco Pad. There are tons of varieties out there, and I chose to go with the Rocky Mountain Rafts Crash Pad. It's made of heavy-duty PVC with a handle and grommets to strap almost anywhere on the raft, at camp, or on the back of the truck. As versatile as a Swiss Army knife, there is almost no wrong way to use it. Why not squirt some bio-degradable soap on it and use it as a water slide? On the river there is only one rule – leave no trace.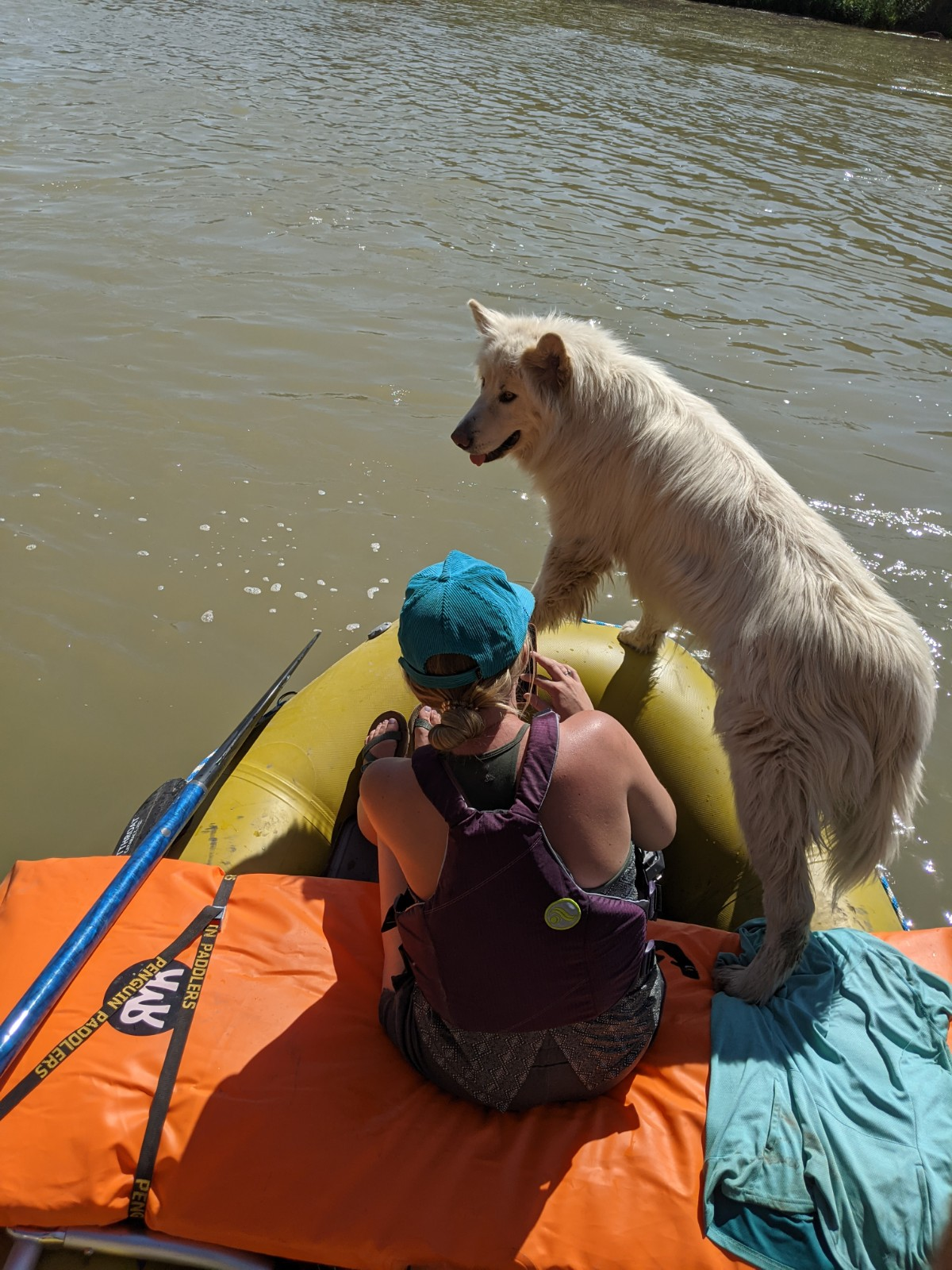 Kitchen
Instead of going ultralight style, we'll be bringing our Primus Tupike stove to cook with, along with a GSI mess kit with all the fixings. Nothing like waking up to the smell of sizzling bacon in the morning. It's powerful enough to boil water in a jiff and doesn't take up very much space on the raft at all.
Doubling as the rowing seat, we'll have our big Yeti cooler for our main food/beverage cooler, and a smaller soft-sided one for drinks and snacks on the river. Keeping drinks and lunch in a smaller cooler for on the river keeps more ice in your main cooler – not to mention freezing a few water bottles as ice packs give you extra water when you need it most–on the drive home.
Meals
One of my favorite group dinners to make on the river is a classic Frito pie. It's quick, it's easy, and it can feed an army of river rats with almost no effort. I'll make chili a day or two before the trip and freeze it for easy traveling. Pack along your favorite salsa/hot sauce, a few avocados, an onion, and some shredded lettuce and cheese, and boom you're done.
For breakfast on day two, we go the simple route – cold brew coffee, mixed fresh fruit and yogurt, and maybe a Clif bar so we can get on the river sooner and avoid afternoon winds.
Clothes
Early season floating means the temps will go from high to low as fast as the sun falls behind the canyon walls. On the river (and in the sun) we will be nice and cozy, but evenings are a different story entirely. For that reason, it is crucial to pack some warm layers.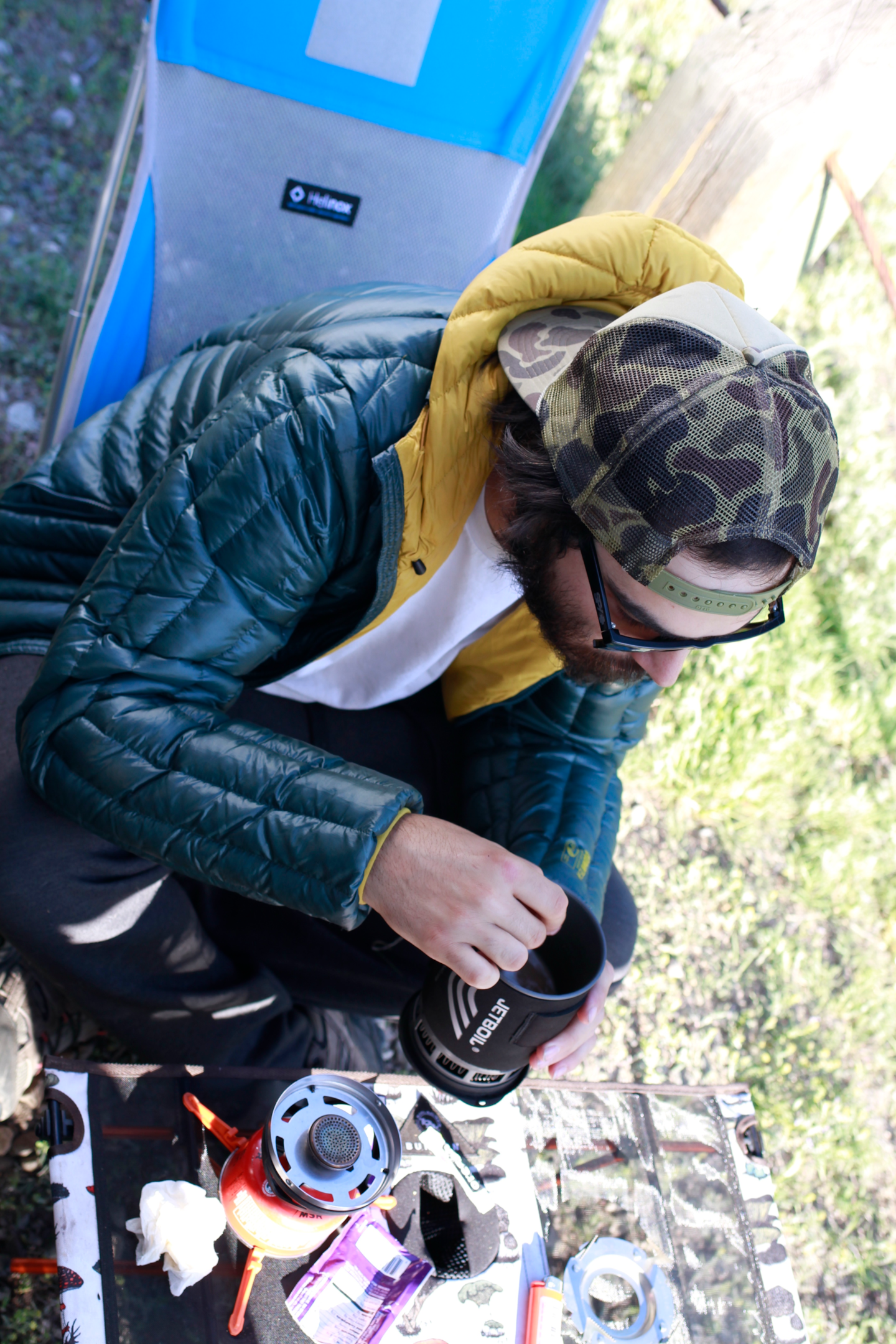 I always bring a quick-drying fleece layer and an insulated jacket in a dry bag on any river trip I go on. I prefer down insulation – it is warmer and more packable – but it does not perform well in wet/rainy conditions. Synthetic insulation does a much better job in wet environments, but is a little bulkier and does not breathe as well as down.
Many companies are now using sustainably sourced down and recycled synthetic insulations in their products, making them better for the environment and less offensive to any geese who you may pass along the river. No Frois Grois feathers on our boat.
Other Goodies
Now that we've got all our primary necessities packed away, here are some things that you may want to opt for bringing on your overnight rafting trip to help keep you comfortable and happy.
A water filter – never underestimate your need for water. If you think you'll need more than you can pack bring along a filter. Gravity filters are nice for groups, and pump filters for speed.
Microfiber towels – staying dry is crucial to staying warm. They take up no space, weigh almost nothing and absorb a lot of water fast.
Fire pan or box – a classic fire pan is a huge luxury on an overnight rafting trip, but can be a little bit of a burden compared to the more innovative propane-powered rocket-box-firepits coming on the market in recent years. Nonetheless, being cold sucks.
Games to bring on the river
Games – The sandy beaches on Ruby Horsethief are perfect for a heated game of Bocce ball. Our go-to game on a group trip like this is Ladderball since it's easy to pack away and tons of fun. With two dogs on the trip, we can't forget their favorite toys too.
Almost ready for our Ruby Horsethief trip
And after all, it's not the end of the world if you forget something. Our ancestral river runners didn't have it all and most of them made it just fine. Except for the ones who forgot their oars. Definitely don't forget those.