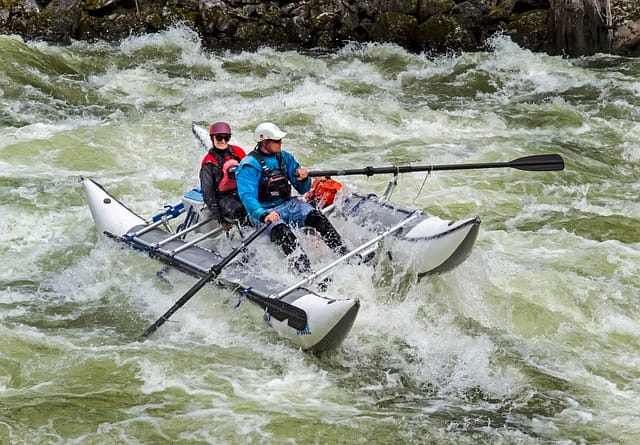 Cold Weather Rafting Trip
Most people fall in love with river trips during the spring and summer months when the weather is warmer, the water is a more pleasant temperature, and getting wet is not only acceptable, but part of the fun of whitewater rafting. The Winter is a different story. Read on to learn what to Wear for Whitewater Rafting in the Cold!
If you're like me, you won't want to stop going on river rafting trips just because the leaves are changing and nights are starting to dip below freezing. Personally, you'll see me out on the river until the water freezes over, and some of my favorite trips have been during the colder months when the river is less crowded and the commercial trips have mostly ended for the year. However, if you don't want to be miserable and cold during your whole trip, you'll need to have the right clothes, both on the river and at camp.
As one of my river trip mentors told me once, "There's no such thing as bad weather, only bad gear!" So if you're planning a fall or winter whitewater rafting trip, keep reading for tips on what to wear for cold weather trips.
What to Wear on a Winter Whitewater Rafting Trip
Materials
It is crucial to where the correct gear if you want to stay warm. The number one rule for winter boating is to avoid cotton. Don't wear cotton t-shirts. Avoid wearing cotton sweatshirts. Don't wear cotton undies. Don't even have cotton anywhere near you.
The reason for this is that cotton is not at all water resistant. When it gets wet, it is no longer insulating. This can obviously be dangerous if temperatures are near or below freezing. Instead of cotton, consider wearing these materials.
Merino Wool
Merino wool is an amazing material that you may see being used for base layers, wool socks, and long underwear. This material is moisture-wicking and will also still keep you warm when it gets wet.
Neoprene
Drysuits, splash jackets, and rain pants are often made out of synthetic material like neoprene. These materials are designed to keep you dry while you insulate with a base layer and other warm clothing.
Neoprene is uniquely waterproof due to the way it is constructed. Instead of being woven like cotton, it is formed so there are no small gaps in the material for water to get through.
What to Wear for Whitewater Rafting in the Cold: Outer shell options
A rafting trip in the cold offers unique challenges for the summer time boater. What to wear whitewater rafting is often one of the hardest.
The most important thing to think about is that your clothes should prevent you from getting wet. With that said, it is obviously hard to avoid the water completely while white water rafting. Staying warm while wet is almost as important as staying dry.
Here are a few things you can wear to achieve both of these goals.
Wetsuit
When you're rafting trip includes rapids above class ii, a swim is always a possibility. As a general rule for these river trips, if the combined water/air temperature is below 130 degrees, you'll want to wear at least a wetsuit.
While wetsuits do not keep you dry, they use your body heat to keep the water inside the suit warm and protect you from the cold water outside your suit.
Farmer John wetsuits are a good compromise between comfort on the boat and in the water, since they will still keep your core temperature up during a swim.
Drysuit
If a swim in cold water is likely, there is no substitute for a dry suit. Unlike a wetsuit, a dry suit uses gaskets at the neck and wrists. They either use gaskets or neoprene booties to keep you totally dry. This gives you more flexibility with what you wear underneath. Staying totally dry will keep both your core and your extremities warm as long as you layer up underneath. So, a dry suit will usually be much more comfortable in the water than a wetsuit.
Drysuits are also good for hot summer days when the water is still cold. You can wear clothing underneath depending on how warm or cold you want to be on the boat. They can also provide a little extra flotation since air often gets trapped inside the suit. Although this is NOT a substitute for a good PFD.
Splash Jacket
A splash jacket is basically a rain jacket for whitewater rafting, but unlike a rain jacket, they usually have urethane or neoprene at the neck, wrists, and waist in order to keep water from getting inside. Combine splash jackets with good waterproof pants to stay warm and dry when you're punching through holes and wavetrains.
If a swim is likely, a paddle jacket isn't the best choice. It won't keep you warm or dry if you fall into the river. However, it's definitely the most comfortable option while you're in the boat. Combined with a wide-brimmed hat or baseball cap, they also provide good sun protection just in case the colder weather caused you to forget sunscreen.
Rafting Shoes
In the fall and winter, you may want to ditch the flip-flops and river sandals (or at least keep them in your dry bag to wear with wool socks at camp) for river shoes that will keep your feet warm. Tennis shoes work in a pinch, but they tend to be uncomfortable when wet.
If you're tired of cold, wet feet on the river, there are specific shoes you can wear rafting. River shoes, when combined with good neoprene socks, will stay on your feet whether you're in a dry suit or just splash gear, keep your feet warm and dry, and be more comfortable when you're white water rafting.
Personal Flotation Device
Many boaters don't consider this, but a bigger PFD will keep you warmer than a smaller kayaking PFD will. In colder weather, a life jacket like the NRS Big Water Guide will help you stay warmer on the boat and keep you floating higher up in what could be a dangerous, cold water swim.
What to Wear for Whitewater Rafting in the Cold: Camp Clothes
As long as you know how to stay comfortable outside in the winter, time spent at camp should be one of the best parts of your whole trip. You might not be lounging on the beach in flip flops and a swimsuit, but winter camping has its own charms.
Here are a few things to consider.
Long Underwear
Probably the most important cold weather clothes for your time in camp, good long underwear will keep your body heat in. Combined with a good zero-degree bag, a good base layer may be the most important component of a good night's sleep in the winter.
Since a sleepless night will ruin anyone's rafting experience, make sure you don't leave the longjohns at home.
Accessories for camp
Sleeping Bag
A good sleeping bag is important for all cold weather rafting trips. A good zero-degree bag or a 30 degree bag combined with down blankets for insulation will keep you comfortable on the coldest nights.
Remember that the temperature ratings for sleeping bags are usually the survivable temperature rating, not the comfort rating. So while a 30 degree bag will probably prevent hypothermia at freezing temperatures, you may wake up with cold and stiff extremities or at least get a bad night sleep without better insulation.
Sleeping Pad
A good sleeping pad is critical for a good night sleep while you're rafting. Check the r-value of any sleeping pad you want to use to get an idea for how well it will work in the cold.
Remember: The higher the r-value, the more your pad will insulate you from the cold ground. In the winter, it's a good idea to sacrifice packability for thickness.
Tent
A good four season tent will go a long way toward keeping you comfortable in the winter months. Not only do these tents help keep cold air out, but they also are typically designed to avoid snow buildup on top in the event of a winter storm.
Fire Pan
While there are often fire bans during summer river rafting trips, during the fall and winter these bans are usually lifted. And you'll probably want to cozy up to a fire once the sun goes down after a long day of rafting.
Make sure you have a National Park Service/National Forest Service approved fire pan for your permitted rafting trip. Even if you are in a place where this is not required, it's still a good idea to bring one along in order to preserve the wilderness feel of rivers and practice leave no trace ethics in the backcountry.
Water Bottle
A good, insulated water bottle is important, especially for fall and winter rafting trips. You aren't concerned with your water getting too hot like you might be in the summer, but because your water may freeze on an especially cold night, be sure to bring something with good insulation.
It's also a good idea to leave your water jugs partially submerged in the river (tied to your raft, of course) during those extra cold night. Moving water doesn't freeze as quickly as stagnant water, and will provide some insulation so you don't wake up to a huge brick of undrinkable ice.
What to Wear for Whitewater Rafting in the Cold:Final Thoughts
A winter rafting trip can be one of the most rewarding experiences a boater can have, as long as they bring the right gear and avoid common mistakes. Remember, cold rafters are miserable rafters, so stay warm and you'll have a blast!